Grown-up Swim declared the debut dates for a progression of shows, including Rick and Morty and Primal.
Grown-up Swim uncovered its debut plan for 2020. The rundown covers various season debuts, including the profoundly foreseen new periods of Rick and Morty, Robot Chicken and Genndy Tartakovsky's Primal, alongside the introductions of new arrangement JJ Villard's Fairy Tales and YOLO: Crystal Fantasy.
Posted on Adult Swim's Twitter account, the rundown shows a record of 12 up and coming season debuts from May 3 to Fall 2020. Given the planning on April Fool's Day, the post guarantees fans that "this isn't a joke."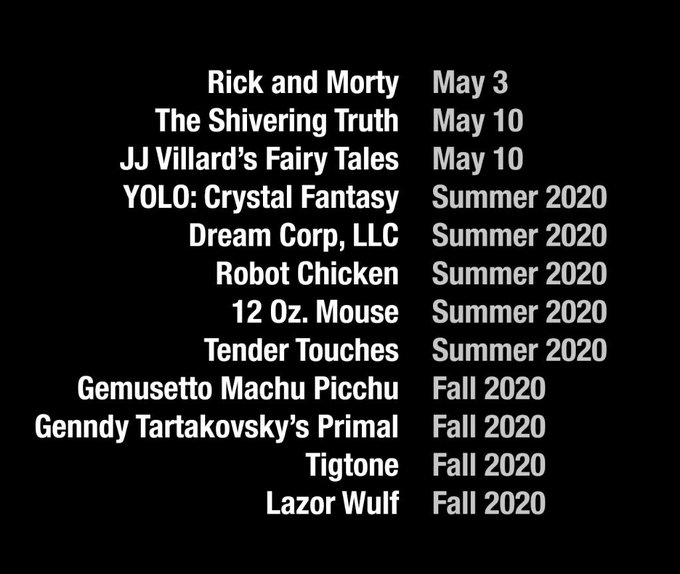 May will see the arrival of Rick and Morty for its fourth season in the wake of being reestablished for 70 scenes by and large. Going along with it will be the stop-movement sketch parody The Shivering Truth's subsequent season and the debut scenes of the vivified, dull fantasy parody JJ Villard's Fairy Tales.
On the late spring's agenda is the new energized parody YOLO: Crystal Fantasy, which was made by author and illustrator Michael Cusack and spotlights on the misfortunes of two Australian gathering young ladies. The mid year will likewise observe the start of the third period of the real to life dim satire Dream Corp, LLC, the tenth period of the stop-movement sketch satire/mainstream society spoof Robot Chicken, season two of the vivified parody/spine chiller 12 Oz. Mouse and season three of the vivified drama spoof Tender Touches.
At long last, the fall will bring the start of the second period of the anime spoof Gēmusetto Machu Picchu, the second period of Tartakovsky's ancient new arrangement Primal, the enlivened Dungeons and Dragons-esque dream parody Tigtone and the second period of the energized satire Lazur Wulf.